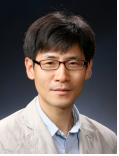 Prof. Kim, Kyeong Kyu
Kyeong Kyu Kim got his Ph.D. (1994) in Chemistry from Seoul National University, Korea and had postdoctoral training in the University of California, Berkeley, USA. He started his independent research as an assistant professor in 1998 at Gyeongsang National University, Jinju, Korea. He soon moved to Sungkyunkwan University School of Medicine, Korea in 2000, and became a full professor in 2008. He is currently the president of a division of the Biological Chemistry of the Korean Chemical Society (KCS).
He has been working on the structural and functional studies of key biological macromolecules and their modulation. His current research focuses on the structure-function studies of bacterial virulence factors, and development of antivulence drug as an alternative approach to solve the issue in the antimicrobial resistance.
Contact:
Room 6136, Medical Science Building, Sungkyungkwan University School of Medicine,

Suwon 16479, Republic of Korea

T: +82 31 299 6136

kyeongkyu@skku.edu