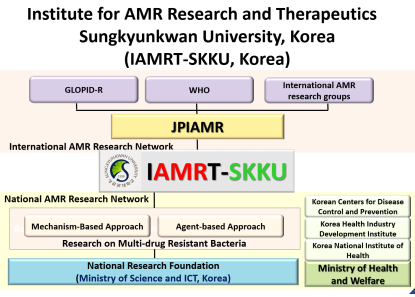 Goal
The institute aims to understand the principle of antibiotic resistance and to develop novel antimicrobial therapeutics.
Mission
Conveying breakthrough research on AMR and providing a practical solution to AMR in conjunction with international communities working on AMR.
Bringing in all relevant research activities carried out by various ministries and agencies in Korea under one umbrella leading to coordination not just within Korea but also with the rest of the world.
Activity
Hosting an international workshop or conference on AMR research.
Building a national AMR research network in Korea.
Participating in JPIARM activities as a regular member country.
Connecting Korean AMR researchers with JPIAMR for the international collaboration.
Initiating the international collaboration and idea exchange in Asia
Funding
National Research Foundation of Korea (Link)